CICTO
International Coalition against organized torture of dogs in Italy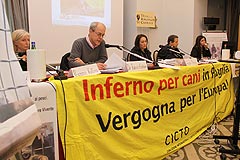 This is a coalition of different european animal welfare organisations, clubs and associations to run a campaign against the organized structures which breed, torture and shelter thousands of "street dogs" in Puglia, southern Italy.
The 50 million Euro business is based on the organized torture and pain of thousands of strays, souls which are condamned to die slowly in miserable conditions of highly subsidised "animal shelters" for profit.
Support us with your donation: IBAN: LI41 0880 0000 0229 7497 4
Join the campaign!
Dogs in Italy (Part 1)

Dogs in Italy (Part 2)